Highfields Equestrian
Home of Dada Sport in NZ
Highfields Equestrian is the New Zealand home of luxury French equestrian wear brand, Dada Sport.
Urban Equestrian Wear Dada Sport offers technical and ready-to-wear equestrian wear that combines elegance and modernity for all, riders or not.
Dada Sport equestrian outfits have elegant lines, manufactured in very high-end fabrics combining technicality and performance.
Your One-Stop-Shop for Everything Equine
Based in New Plymouth, Taranaki, Highfields Equestrian is proud to be bringing you a range of quality equestrian products from New Zealand and around the world. Our business started as Highfields Farm, and as the majority of our clientele are equestrian focused it was a no-brainer to purchase the local saddlery when it came up for sale (The Tack Shack). Here at Highfields Equestrian we are working hard behind the scenes to bring you exciting new brands and products.
We have a wonderful, knowledgable team who are happy to help with any queries you may have, be it feed or saddlery related.
Highfields Farm - Quality Feed Solutions
Highfields Farm is your one-stop-shop for quality feed. Whether you need red clover hay, low sugar hay, baleage or a unit load of silage for your farm we have the solutions for you! We are also proud to be the exclusive Taranaki stockists of Hekeao Feed Co equine feeds.
Get in touch if you have any specific requests, we are always happy to help!
We Stock Purpose Grown, Specialist Hay and Feed Solutions
Do you need clover free hay? Rye free? Pure Timothy hay? Soy free feed?
Highfields Equestrian have all of these available, and even stock endophyte free horse mix baleage that we grow on farm ourselves. We pride ourselves on having quality hay, baleage and feed available for even the fussiest of animals all year round.
Do you have a horse with specific dietary requirements?
Highfields Equestrian has the solutions for you.
We have rye free hay, clover free hay, endophyte free hay, low sugar hay and pure timothy hay. Our hay is also weed free so you can purchase with peace of mind.
Highfields Equestrian are stockists of soy free hard feed - the Premium Range from Hekeao Feed Co is fully soy free (soy meal and soy hull) and made in Canterbury from locally sourced ingredients.
We have grain- free options too! Hekeao Feed Co. caters for all diets.
Do you struggle with ulcers? We have a feed for that too - Hekeao Feed Co's GastroFuel is soy free, grain free and contains pectin and lecithin for ulcer prevention.
Weekly Delivery Taranaki Wide
Shop online and have your hay, feed, baleage and chaff delivered at the click of a button - it's never been easier!
Highfields Farm is based in Taranaki and we offer weekly deliveries Taranaki wide, and can freight nationwide. If you are not in Taranaki contact us for a quote.
We can also supply unit loads of large rounds or squares (hay, silage and straw) on farm - get in touch for more info.
Nationwide Delivery Available!*
*T&Cs apply - freight cost is dependant on delivery address and size of order. We use PBT and Mainfreight for our nationwide orders.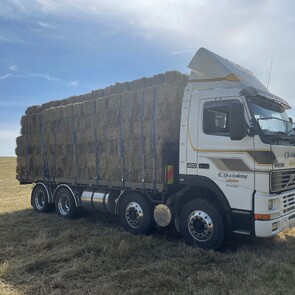 Highfields Farm - A Diverse Operation
Highfields Farm (our original business) is a diverse operation, there is never a dull moment!
We also bale hay and silage, routinely deliver unit loads of hay/silage/straw, grow and maintain specialist crops (like Timothy hay), have a float for hire, milk 360 cows and manage two dry stock farms (and a toddler!).
With the addition of Highfields Equestrian we certainly have our hands full!