From 1 bale to 1000 bales, we can help!
Do you need clover free hay? Rye free? Pure Timothy hay? Soy free feed?
Highfields Farm have all of these hay and feed options available, and even stock endophyte-free horse mix baleage that we grow on farm ourselves. We pride ourselves on having quality hay, baleage, chaff and feed available for even the fussiest of animals all year round.
We Stock Purpose Grown, Specialist Hay and Feed Solutions
About Highfields Farm
We are Elly and Kurt - by qualification we are a Chemical Process Engineer and a Diesel Mechanic/Heavy Automotive Engineer
However, we both have an underlying passion for animals and the world of agriculture.

We 50/50 share milk as the 6th generation on the Vickery family farm in Tikorangi, Taranaki. We run a diverse operation, split calving 400 cows, with 100% of our calves reared to stock our dry stock blocks. With over 1600 acres of dairy, beef and cropping land, 1100 cattle and 4 fussy horses we understand the importance of quality feed. After running around after our 9 month old son, Thomas, we somehow find time to run our feed business too (we couldn't do what we do without our fab team of staff and family!).
We take great pride in bringing high quality stock feed solutions to Taranaki and the wider North Island - we hope you all love our hay, baleage, chaff and horse feed products as much as we do!
Do you have a horse with specific dietary requirements?
Highfields Farm has the solutions for you.
We have rye free hay, clover free hay, endophyte free hay, low sugar hay and pure timothy hay. Our hay is also weed free so you can purchase with peace of mind.
We have soy free hard feed - the Premium Range from Hekeao Feed Co is fully soy free (soy meal and soy hull) and made in Canterbury from locally sourced ingredients.
We have grain- free options too! Hekeao Feed Co. caters for all diets.
Do you struggle with ulcers? We have a feed for that too - Hekeao Feed Co's GastroFuel is soy free, grain free and contains pectin and lecithin for ulcer prevention.
Weekly Delivery Taranaki Wide
Shop online and have your hay, feed, baleage and chaff delivered at the click of a button - it's never been easier!
Highfields Farm is based in Taranaki and we offer weekly deliveries Taranaki wide, and can freight nationwide.
We can also supply unit loads of large rounds or squares (hay, silage and straw) on farm - get in touch for more info.
Nationwide Delivery Available*
Not in Taranaki? Contact us for a quote.
*T&Cs apply - freight cost is dependant on delivery address and size of order. We use PBT and Mainfreight for our nationwide orders.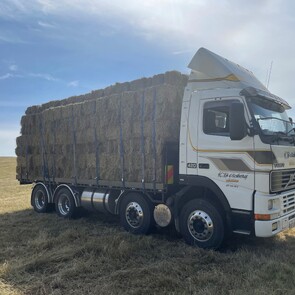 Highfields Farm - A Diverse Operation
Highfields Farm is a diverse operation, there is never a dull moment!
We also bale hay and silage, routinely deliver unit loads of hay/silage/straw, grow and maintain specialist crops (like Timothy hay), have a float for hire, milk 360 cows and manage two dry stock farms (and a toddler!). We now (as of 1st February 2023) own and run Highfields Equestrian - our equestrian supplies store in New Plymouth .